Marcel Köster M.Sc.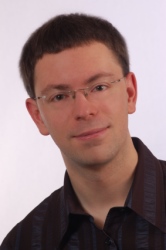 Contact
Tel
+49 681 302-57522
Fax
+49 681 302-3065
Mail

Room
431
Address
Saarland Informatics Campus
Building E1 3
66123 Saarbrücken
Germany

Research Interests
Compiler Construction (Intermediate Representations, Code Generation, Automatic Parallelization and Vectorization)
Continuation-Passing Style
Domain-Specific Languages
Computer Graphics (Shading Languages, Real-time Rendering, Ray Tracing)
GPU computing
Projects
AnyDSL: A Framework for rapid development of domain-specific languages.
Noise: User-Defined Optimization Strategies.
Teaching
Winter Term 2013
Summer Term 2013
Winter Term 2011
Teaching Assistent
MMUC (Summer 2012)
Programming 2 (Summer 2011)
Mathematical preparation course (Winter 2010)
Programming for Engineers (Summer 2010)
Programming 1 (Summer 2010)
Algorithms and Datastructures (Winter 2009)
Programming 2 (Summer 2009)